BIOSTAR AM4 RACING and PRO Series Offer Wide Selection of Motherboards for AMD Ryzen 3 – Affordability without Sacrificing Performance
July, 2017 Taipei, Taiwan – BIOSTAR RACING and PRO series motherboards offer one of the widest selection of AM4 motherboards for Ryzen™ 3, 5, 7, Bristol Ridge and 7th Generation A-series. Gamers looking to take full advantage of the affordable AMD quad-core CPUs can select from BIOSTAR's RACING X370 series: RACING X370GTN, RACING X370GT7, RACING X370GT5 or RACING X370GT3. While anyone aiming to build a value and performance system can select from BIOSTAR's RACING B350 series: RACING B350GTN, RACING B350GT5, RACING B350GT3 and RACING B350ET2 and PRO B350 and A320 series: TB350-BTC, TA320-BTC, A320MH PRO and A320MD PRO.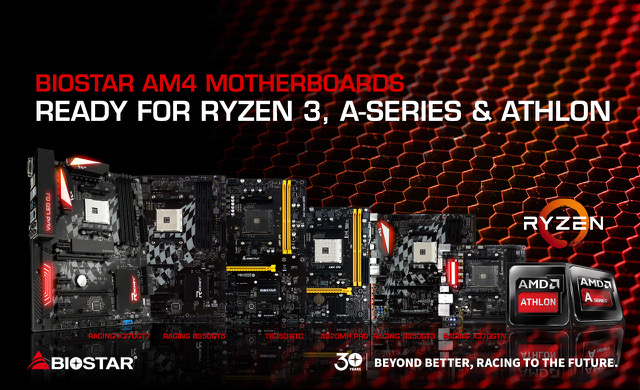 Keeping Overclocking Under Control
At affordable pricing, the combination of AMD Ryzen™ 3 and BIOSTAR motherboards which feature Digital Power+, delivering stable power and 100% fixed voltage to critical components of the motherboard ensures the CPU reaches its full overclocking potential.
Faster, Better Gaming Performance
Clock speeds aside, BIOSTAR RACING X370GTN, RACING X370GT7, RACING X370GT5, RACING X370GT3, RACING B350GTN, RACING B350GT5, RACING B350GT3 and RACING B350ET2 provide gamers with features that enhance their gaming experience:
FLY.NET utility that automatically detects the bandwidth usage and optimizes the internet speed for online games (not available in RACING B350ET2).
DRAGON Gaming LAN for a smooth gaming experience with low latency, ultra-stable network connection, and smooth video streaming (not available in RACING B350ET2).
VIVID LED DJ with lighting control to match the mood and game play.
BIOSTAR Hi-Fi Technology allows you to be fully immersed with the in-game audio.
Lightning Charger to quickly charge your mobile device so that you do not lose touch during intense gaming sessions.
Value and Performance Builds for Mining or Essentials
Anyone looking at getting started on crypto mining, BIOSTAR TB350-BTC, TA320-BTC complements the AMD Ryzen™ 3 perfectly with lowest initial investment possible. For your essential builds without sacrificing performance, A320MH PRO and A320MD PRO are great options. These include durable and protection features: MoistureProof PCB to withstand the high-density and moist conditions, as well as Low RdsOn P-Pak MOS for cooler temperatures and reduced energy loss. BIOSTAR's exclusive Anti-Surge design to reduce unexpected shocks from overvoltage transients, Super LAN Surge Protection to prevent damage from lighting strikes and electrical surges, ESD Protection to avoid overstress (EOS) conditions.
Getting it right with the BIOSTAR 3-A Concept
BIOSTAR 3-A Concept is based on the AMD eco-system platform: BIOSTAR AMD motherboard, BIOSTAR Radeon™ graphics card and AMD Ryzen™, ensuring that the components work in perfect harmony. Both the RACING and PRO series offer different SKUs that fits anyone looking for the ultimate gaming and crypto mining platforms with the new AMD Ryzen™ platforms.